Plastic Speed Hump
Products Visitors:59
Product Name:Plastic Speed Hump
Size:250*350*50mm ,customized
Model: GL-JSD01-47,etc
Package:woven bag
Products description:
Features
1.Material is high intensity rubber/durable plastic.
2. Color Lasting: No fade within 2 year.
3. Good quality could Anti-crash, Anti-UV, Anti-hot, Anti-Cold.
4. Rubber Speed Bump can lower vehicle's speed when the cars pass by.
5.In the daytime, its warning color, yellow and black eye-catching.
6. Installed with a light reflection that can reflect some bright light in the evening,
which can attract drivers' attention and enhance the security.
7.specialized designed,notable decelerate effect,without noise and uncomfoetable feeling.
8.black an yellow,affect in day and night,attack the attention of the drivers to decelerate successfu
Specifications of Plastic speed hump:
(Just part of our products,any more,please contact us)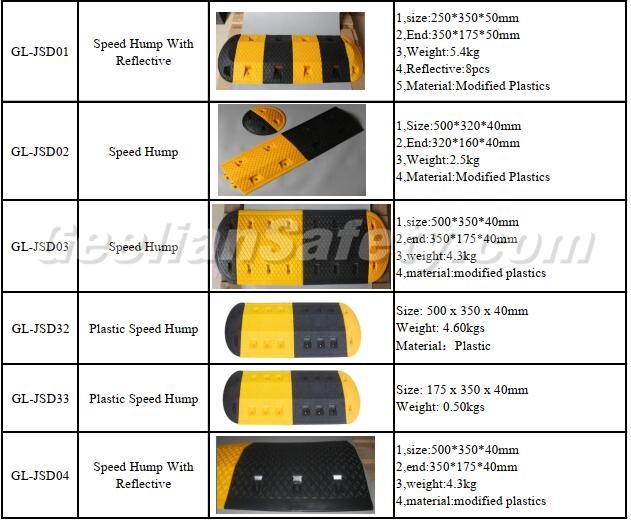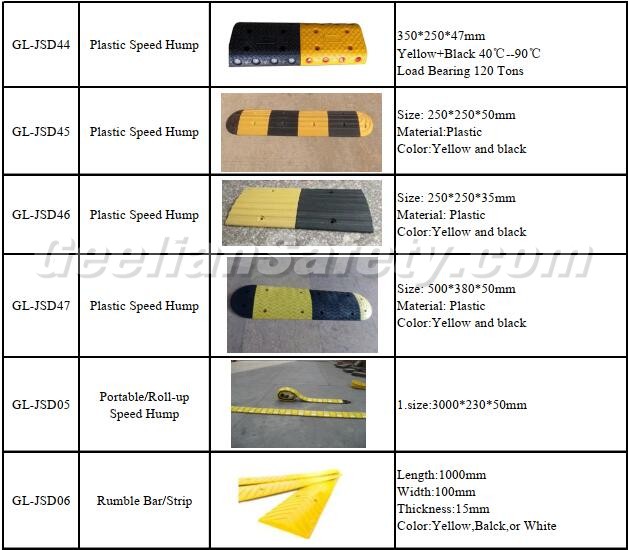 Why choose us?
1.We are the direct factory with good price and fast delivery Time.
2.Professional design team work with you.
3.Professional QC team to guarantee the high quality.
4. OEM Service.
5.ODM Service.
New Products
Relative Keywords
You may also be interested in:
Business Type: