Portable Radar Speed Sign
Products Visitors:89
Product Name:Portable Radar Speed Sign
Size: 680/780*530*130mm,Customized
Package:Carton Box Packing or Woven Bag Pac
Model:GL-CSY-07
Products description:
Main Feature
- Fully matrix display clearly display vehicle speed
- Display Speed and message SLOW DOWN.
- Designed ultrathin and flexible for portable use
- With professional traffic radar K-band, 24.150GHz.
- Adjustable radar speed sensitivity.
- Measured vehicle speed unit KM/H or MPH.
- Easy to set limit up speed or limit down speed.
- Can set multiple time periods for different limit speed.
- Display mode settings, display flash or display static.
- High-Intensity LED, automatically adjusts brightness.
- Available AC, DC and Solar power Options.
- Weather-resistant Construction.
Specification
-Dimension:Customized
- Dimension: 700X550X120 mm
- LED digits height: 36cm
- LEDs color : Red/Amber
- Speed : from 10 to 199 MPH (or KM/H)
- Accuracy : ± 1 MPH (or KM/H)
- Radar : 24.150 Ghz (K-band)
- Detective range: 200 m
- Visibility: 300m
- Working temperature : - 20° C to + 70° C
- Available AC, DC, or Solar power options.
- Weight : 12kgs
- Guarantee: one year
-Power supply: Electric supply (90-240V) & Solar panel(100W) & Battery(65AH)
-Response time: below 5ms
Options
Collect traffic data record in SD card
Wireless communication download traffic data
Solar panel and battery
Portable stand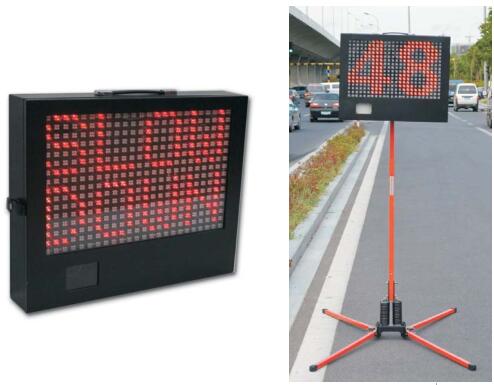 New Products
Relative Keywords
You may also be interested in:
Business Type: